Mobile Stage Rentals
The hottest, newest thing in staging!
When you need an outdoor stage with a roof, a mobile stage is the way to go - and we've got 'em!

Save me some MONEY!: To build a conventional 24' x 20' x 4' stage, with a load-bearing roof (to 'fly' sound and lighting), skirting, stairs, with all of the overhanging banner and fixtures, used to take 6 men about 8 hours, which resulted in a lot of labor. The application of hydraulics to the staging business has changed all of that!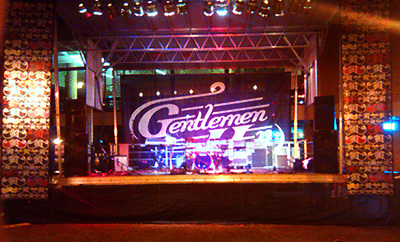 As a result, the set-up time for that same 24' x 20' x 4; stage with a load bearing roof structure (for hanging sound and lights), along with stairs, rails, and far more sponsorship signage space, has been reduced to 45 minutes!, ...and that's on a slow day!

In addition, the SL100 mobile stages arrive behind a Ford F350 dually Super Duty truck, which means we can navigate into much tighter space, and across spaces that might have weight limits, such as sports fields or stadium floors. No semi truck needed!

But the best part of these portable stages is that it only takes two men - and a wrench - to set up and secure the stage, which saves a lot of expense on labor, hotel rooms, per-diems, meals, etc... And the sound companies love them because they have standard apparatus for hanging sound and lights. It just makes it easy when everything is made to work together!

Stage Accessories: Mobile Stages
NEWS: There are numerous signage opportunities available from the standard rigging of the mobile stage rental units. We can provide you with all of the measurements, and even assist you in creating or applying your existing graphics to a wide range of banner choices.
In addition to the most versatile stages on the market, we also offer all of the accessories: Carpeting, Skirting (in various sizes and colors), Stairs, Rails, Access Ramps, Brace Brackets, Telescopic legs (for putting the stage up over curbs, bushes, or uneven terrain), and special rubberized no-scuff feet (safe for your wood, marble, or synthetic gymnasium floor. )

Digital rope lighting (Clear, Red, Blue, Purple) around the edges of any stage looks great, outlines the stage, provides visibility for the talent in what could be a dark environment!