Stages
What you need to know: 3 basic measurements for your stage requirements: Length, Width, and Height.

If you're not sure about the sizes, give us a call. Tell us about what you are doing, and we'll recommend a stage size and height that will work. Or, you can simply mark/tape off an area you think will work, and take some measurements of that. Then, we can figure out how tall you need the stage. For example, the vast majority of local band stages we erect are 24'w x 16'd x 3'h, and that accomodates a 6 piece band comfortably.
Our staging comes in 4' x 4' decks, so you can design your stage in any multiples of that, up to the size of a basketball court...and beyond. We can also accommodate special designs, including risers, ramps, U-shaped stages, rounded edges, T-shaped stages, modeling runways, sound risers, drum risers, mulit-tiered risers...just about anything you can imagine.
Stage Accessories

In addition to the most versatile stage on the market, we also offer all of the extras:
Carpeting, Skirting, Stairs, Rails, Access Ramps, Brace Brackets, Telescopic legs
(for putting the stage up over curbs, bushes, or uneven terrain), and special rubberized no scuff feet (safe for your wood, marble, or synthetic gymnasium floor. )
Skirting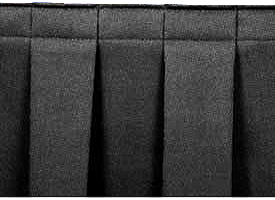 The vast majority of stage skirting applications are black, pleated, 2' tall, but we can get it in blue, red, white, burgundy, green, and many other colors, heights, and styles: Pleated, shirred, flat...it's your choice. We can even special order it for other special heights, colors, and logos! Yes, skirting dresses up the stage to make it look
Safety Rails

When you're using a tall stage, or a stage for a crowd of children, dancers, or even choir risers, you may want to consider using Safety Rails. These provide a barrier edge for heights, chairs, and mis-steps. Usually across the back, and sometimes down the sides, stage rails provide an extra level of safety, especially if you're stage is going to be filled with high energy. Santa Claus, up 6 feet on a tall stage, uses stage rails all the way around...to protect him and his elves!
Stage Cart
One of the greatest characteristics of this portable staging is that it

stores easily in a very small footprint. The decks can easily be handled by a pair of mid-sized adults, and this cart is a great way to securely transport the pieces from one place to another. And this is a KEY advantage: The cart is designed to get through standard doors! That's really important so you don't have to keep stacking and unstacking the stage to get to/from the stage site.